Locate Freemasons near you. In Every Community
Lodge halls, in the Grand Juristiction of British Columbia can be found in just about every community. Use the map below to search for a lodge hall near you or the button to find the lodge closest to you and then contact us for more information.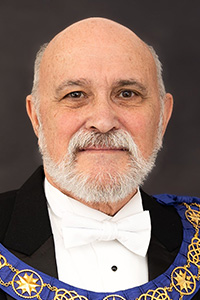 Grand Master of British Columbia & Yukon Most Worshipful Brother Kenneth Morgan Overy
I would like to thank the members of Chemainus Lodge No. 114 past and present for inspiring me with their wisdom and insight which no doubt was the catalyst to set me on this path thus enabling me to stand here before you today. I would also like to give my appreciation to the committee that made this Grand Lodge possible.
Success is the result of perfection, hard work, learning from failure, loyalty, and persistence. – Colin Powell
Grand Secretary RW Bro. George Moore
My worthy brethren, this is a very humbling moment. Thank you for placing your trust in this Grand Master—my commitment to you is to be worthy of that trust. Many of you have offered your congratulations to me; however being elected is one thing, delivering results is another. If by June 2022 our masonic investment this year is achieving returns for you those congratulations will have been justly earned.
If your actions inspire others to dream more, learn more, do more, and become more, you are a leader. -John Quincy Adams
Have a question?
Correspondence received by the Grand Lodge of British Columbia and Yukon from brethren who are not British Columbia and Yukon Constitution members will be replied to by way of their Grand Secretary. While at first glance this is a cumbersome process, brethren will understand that it is only by communicating through his Grand Lodge that a brother's standing can be vouched for.